Discussion Starter
•
#1
•
http://theautopanel.blogspot.com/2013/11/2015-wrxsti-unofficially-revealed.html
from the above article
It seems like the wraps have been taken off the upcoming WRX/STi just five days before the official release by Subaru at the LA Auto Show. Below, you'll see a spec sheet and an article that has leaked onto the internet. It gives a rundown of what the WRX and STi are going to have.

First off, it seems like Subaru has indeed gone ahead and removed the "Impreza" designation, and the new models are just called the Subaru WRX and Subaru WRX STi.

Now...onto the good stuff. Here's the big news: the WRX has an FA20DIT. That's right. It basically has the BRZ motor with a turbo on it. The direct injection technology means that the gas mileage is vastly improved over the outgoing model, and we can probably expect to see MPG's around the BRZ's. The power output of the FA20DIT is 268 HP at 5600 rpm and 258 lb-ft at 4800 rpm. The disappointing part is that the acceleration to 60 is slower than the outgoing model. Subaru "predicts" that it reaches 60 from a standstill in 5.4 seconds; the outgoing model did it in 4.7. Also, the FA20DIT uses less boost.

The STi will keep it's 2.5T, but whether or not it is the EJ257 is unclear. One can always hope that it has direct injection to see improved gas mileage.

Also, the WRX is available in a 6-speed manual or CVT transmissions. Most enthusiasts will likely go for the 6-speed manual, but the CVT has given Subaru the chance to appeal to a wider variety of people. The slower acceleration to 60 is due to the addition of the 6-speed, in which it takes three shifts to reach 60 whereas it takes two on the outgoing 5 speed. The 6-speed is supposedly sourced from the Forester XT, and uses cable linkage instead of the Forester's rods.

The STi will have a 6-speed, and there is no option for a CVT. If you want a USDM STi, learn to drive stick.

The handling of this WRX seems to be miles ahead of the outgoing one. The power steering ratio has improved from 14.8:1 to 13.3:1, with 230% stiffer steering mounts. The front brake discs are larger at 12.4" up from 11.6". The car is much stiffer with stiffer springs, dampers, cross-members, subframe bushings, and front control arms. Subaru claims that all these improvements results in a 1.10 g cornering ability.

The interior is also improved with an LED display that can show information such as torque split, boost level, mpg, and icy-road warnings. It is also rumored that all models will have a backup camera that will work through this display. It seems like all models are available with a D-steering wheel as well, a wonderful addition that will add to the euphoria of spirited driving.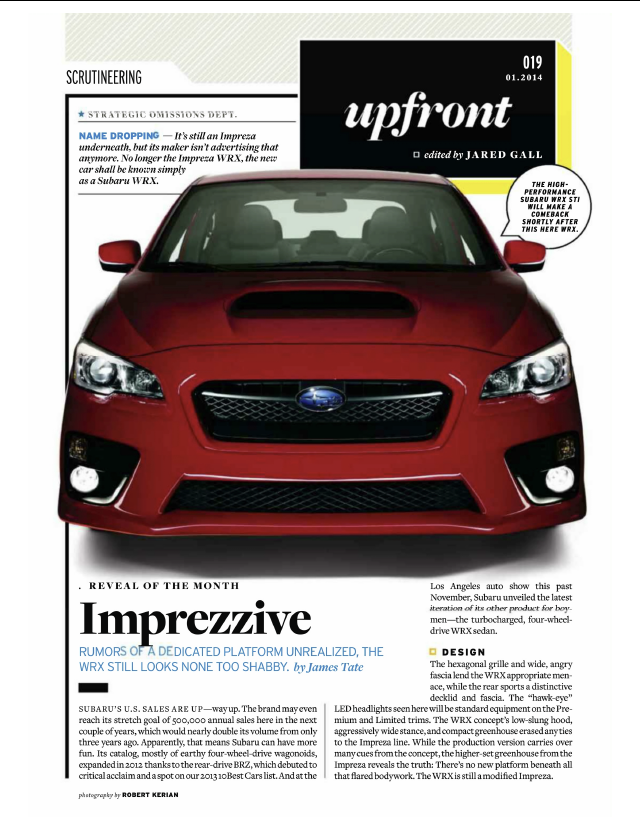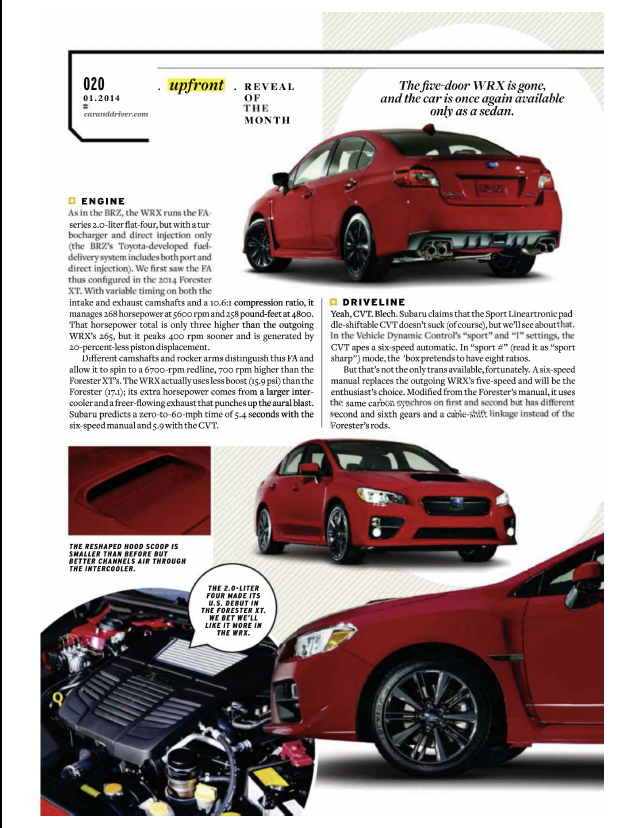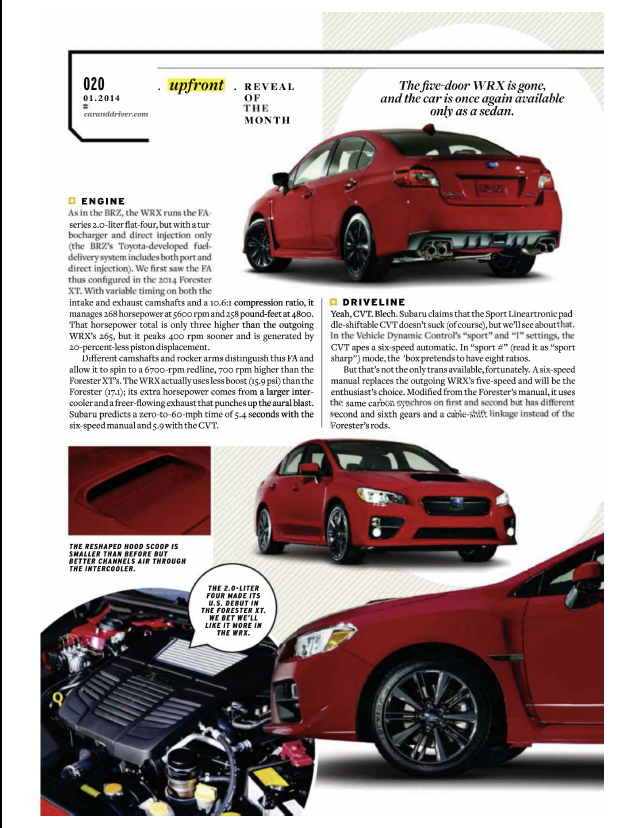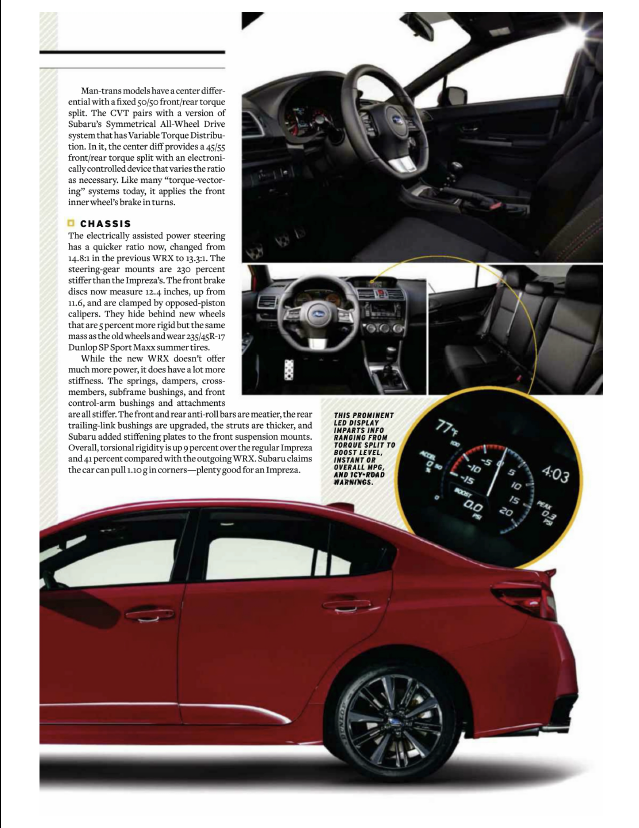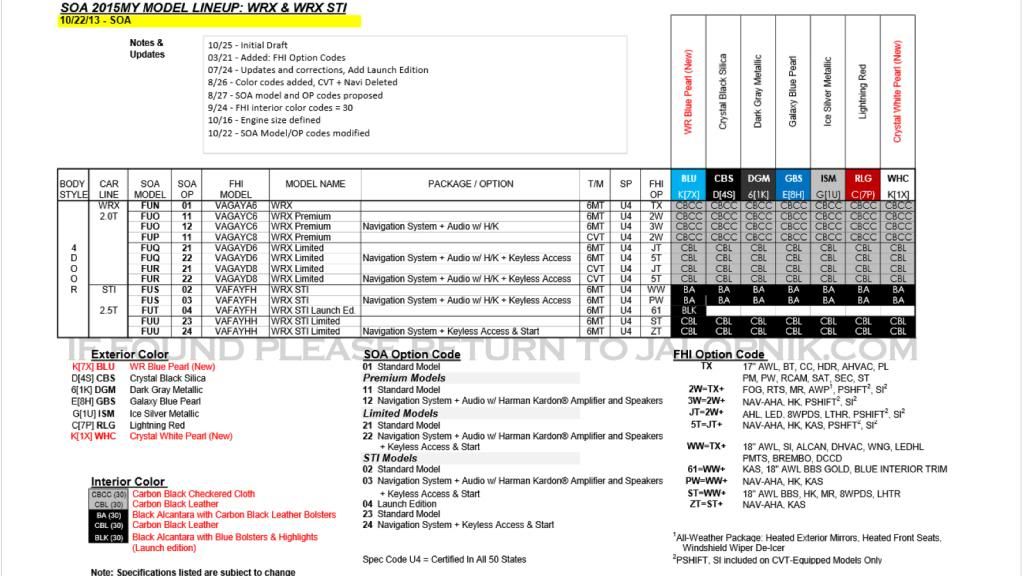 "too long; didn't read" (tl;dr) notes:
* fourth generation WRX and WRX STI speculated to be based off of fourth generation Impreza
* only available in 4-door sedan for North American market
* new FA20 DIT used in 2014 Forester XT used in WRX (WRX STI uses a turbo 2.5, unknown at this time if an EJ engine or FA engine)
* 6-speed manual on WRX based off of Forester 6-speed (but cable linkage vs rods in Forester)
* WRX STI still exclusively paired with a 6-speed manual
* high-torque Lineartronic CVT available (6-speed and 8-speed modes just as in Forester XT)
* new opposed-piston fixed caliper brakes, larger than previous floating calipers
* much stiffer chassis mounts, bushings, and suspension tuning compared to predecessor
* electric power steering w/ quicker ratio than previous hydraulic steering
I really hope that 2.5 liter engine in the WRX STI is a new variant of the FA engine! I'm hoping an FA25 DIT!